Summer Activities in Galena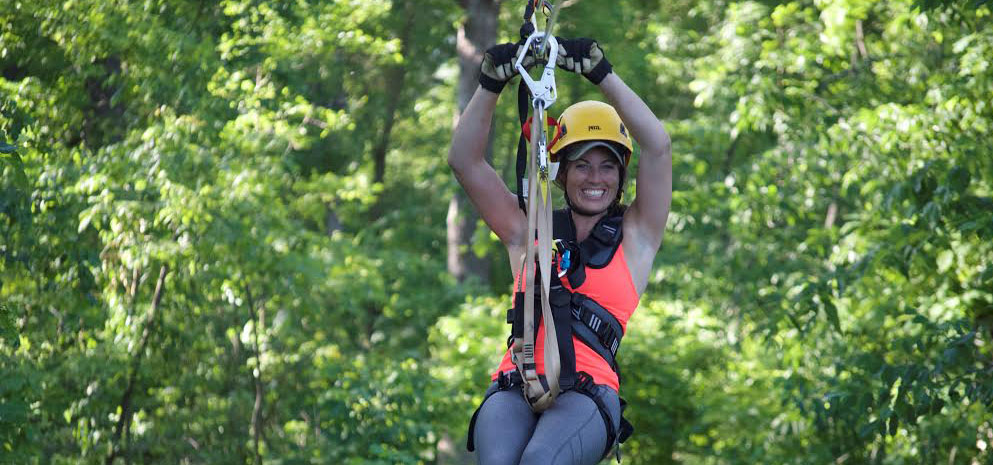 Get outside this summer and take advantage of the beautiful weather in Galena. Although the popular wine tastings, distilleries and tours hold a special place for us, sometimes you need to reconnect with nature. With that in mind, we've put together a guide to activities in Galena perfect for summertime. From golfing to leisurely hikes, there's something for everyone. Plan your Galena getaway today and start making your bucket list of summer activities.
Adventure
Indulge your inner child with a horseback ride. Whether you're an experienced rider or someone who's always wanted to try but never had the chance, The Shenandoah Riding Center in Galena offers trail rides on horseback for riders at every level of experience. With over 40 miles of trails to explore, each experience is brand new. Shenandoah Riding Center is located at 200 North Brodrecht Road in Galena. Riders must be above eight years of age and between 65 and 300 pounds.
Enjoy the view from above with Long Hollow Canopy Tours. Begin your journey on a UTV ride through the forest followed by 5 ziplines, rappelling from two platforms and a trek across a 140-foot sky bridge. The adventure ends with a final 1,230 foot zipline sure to take your breath away. Learn about local plants and animals in the Northwest Illinois region from knowledgeable guides for an entertaining day even Indiana Jones would enjoy. This summer, Goldmoor Inn is offering a complimentary pass for a canopy tour when you stay three consecutive nights through September 2nd! See the package on our website for more information.
Leisure
The Galena area is a gold mine for golfing enthusiasts. Choose from ten courses including Eagle Ridge Resort & Spa, the Galena Golf Club and Woodbine Bend Golf Course. Goldmoor Inn is currently offering a Links & Luxury package which includes a luxurious two-night stay, gourmet in-room breakfast each morning and discounted golfing at Eagle Ridge Resort & Spa. More on our website.
After a long day of golfing, head back to Goldmoor Inn for an appointment with a certified masseuse at our spa. Work out those tight muscles with an individual or couples massage. Staying behind while the guys go golfing? Treat yourself to a complete spa day with massages, pedicures, manicures and more. Start your day with a leisurely stroll in downtown Galena full of shopping and great bites to eat.
Nature
Take a hike along the Galena River Trail. At six miles long, it's the perfect escape for those looking to get back to nature. Grab your hiking boots or mountain bike for a day of free exploration. A more popular section includes the Galena Junction Trail, a 3-mile expanse where hikers can often see a passing train. Find signs and information stands with facts and history of the trail and surrounding area. *Local Tip: get free parking at the US Highway 20 bridge entrance, Meeker & Field street entrance and at Recreation Park.
Not interested in hiking your way through Galena's beautiful nature scene? That's ok! Take a river tour along the Mississippi instead. The 1.5-hour cruise out of Goldmoor's neighbor, Chestnut Mountain, introduces you to the history, wildlife and geographical curiosities along the way. Take an Alpine slide ride down to your tour and ride a Scenic Chair Lift back up. It's a great option for kids and adults with a plethora of photo opportunities. This summer, take advantage of Goldmoor Inn's Mississippi Explorer
Get Free Email Updates
Sign up to stay up to date on the latest articles and tips for a rich,healthy and expanding home and relationship life.
Discover
3 Secrets
to Romance After Kids
When you're busy working on being the best parent possible, it's easy to neglect your adult relationship.